EXCEPTIONAL MEETING with Caterpillar around the range CG 132, CG 170, CG 260.
An event organized by Eneria to discover the Caterpillar plant and a biogas recovery site in Mannheim, Germany.
Eneria will host a conference with Caterpillar officials, offering to you the opportunity to talk directly with the manufacturer.
Eneria, historical partner of Caterpillar,
Specialist energy solutions from generators, offers a gas genset range from 130 kWe to 4.3 MW.
A full range high performance
Our Caterpillar gas generator range is adjusted to all type of gas: Natural, mines, landfills, biogas, synthesis to meet your needs.
With many features, they can produce electricity, hot water, steam cold, warm air.
Turnkey
A complete mastery of work on the supply to the plant with guaranteed results up to commissioning.
An organized and efficient network
A local network to ensure the maintenance of your installations and ensure the profitability of your investments.
---
---
[googlemap width="false" height="300″ latitude="49.487459″ longitude="8.466039″ address="Mannheim, Germany" zoom="6″ border="yes" type="ROADMAP"]
ATTEND
You are carrying a project?
Come and meet the experts Eneria and Caterpillar in Mannheim and get the best advice and solutions to meet your needs.
Ask for Subscription
Send us an e-mail
---
General Program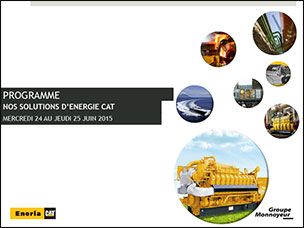 ---