Eneria, major player in marine maintenance, worked on a French service vessel. This vessel is a supply vessel and protects the coastline in the Mediterranean.
Marine Engine « Top-End Overhaul », Cat 3612
Top-End Overhauls are major steps in engines' service life in order to maintain optimum performance and extend its lifespan. This can also help to upgrade engines with the latest updates.
Eneria made the Top-End Overhaul of the two propulsion engines. This vessel has two Cat engines 3612 with 30.000 service hours each. It also has two Caterpillar gensets 3408 for onboard production.
Eneria Technical expertise in Marine
Eneria has 250 qualified and specialized technicians for the maintenance of Caterpillar engines with 10 dedicated and specialized technicians in Marine applications. Technicians are trained in Caterpillar 3600 series maintenance and have worked in this overhaul in record time.
Do not hesitate to contact our team for more information or to maintain you Caterpillar engines.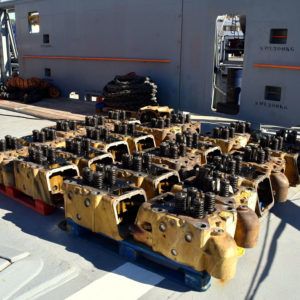 Marine engines maintenance
Marine engines Service & Maintenance
---