Solutions that combine solar energy and diesel technology
With our hybrid power plants, you combine supply security with the competitiveness of solar energy.
Particularly suited to island or remote networks, as well as military bases or humanitarian camps, our hybrid solutions guarantee first and foremost a secure power supply in any circumstance.
Photovoltaic solar panels combined with energy storage also reduce the fuel consumption of the Caterpillar diesel generators by up to 50%!
Eneria's hybrid systems can be deployed as plug & play mobile modules that can be quickly deployed, or as complete stationary power plants. The power plant's production equipment is guaranteed and supported by Caterpillar product support worldwide.
The smart control command center developed by Eneria allows you to remotely monitor the operation and performance of your hybrid power plant 24 hours a day, all year round.
With Eneria hybrid power plants, you can reduce your energy bill and your ecological footprint thanks to solar energy, without compromising the supply security of your facilities.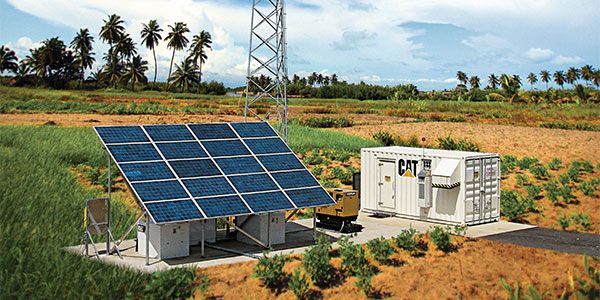 Contact our specialists
Contact form
Eneria Hybrid Sunbox
Our teams developed the Eneria Hybrid SunBox, an autonomous and compact off-road hybrid electric power generation module.
This Eneria innovation, developed by our engineers, fits into a 20-foot ISO container, easily transportable and quickly deployable on difficult terrain using a multipurpose wheeled vehicle.
The Caterpillar generator can be started at any time and can supply a remote site, camp or forward base, construction site, telecommunications site, or event without delay. Once the module is on the ground, the solar panels can be deployed and connected very quickly, without requiring any tools or specific electrical knowledge.
The Eneria Hybrid Sunbox uses solar energy first and stores excess solar energy in the batteries. Thus, power is provided via the batteries when the sun's rays weaken.
With the Hybrid Sunbox, you have double the savings :

Fuel consumption is reduced by 40-50%, reducing the costs and risks associated with logistical convoys for fuel supply
The running time and charging rate of the generator are optimized, maintenance can be spaced out and engine wear due to low load operation can be avoided.
The Hybrid Sunbox can be used for applications such as:
Worksites
Events
Emergency situations
Telecommunications
Remote sites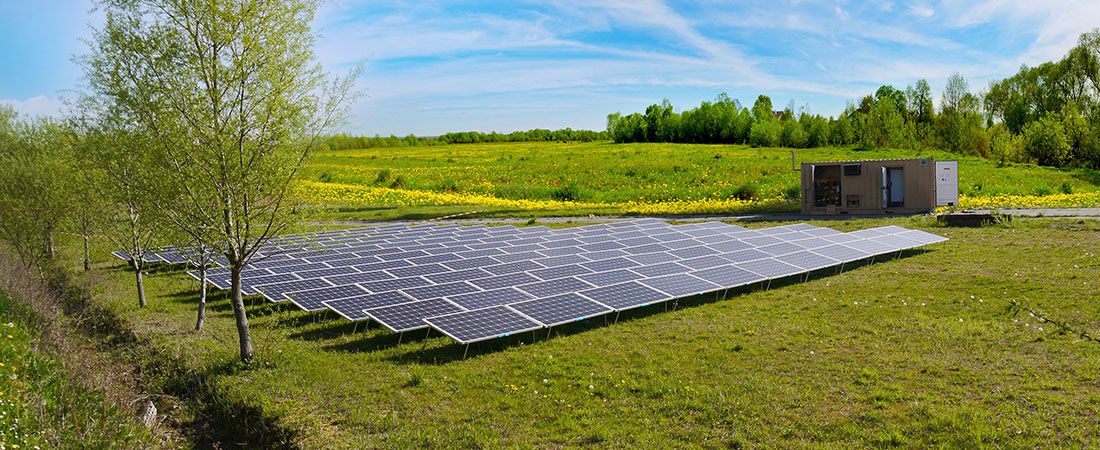 System type
Hybrid Production System
Applications
Remote sites / telecommunications / military projects
Installed power
Photovoltaic power: 40 kWp
Generator output: 24 kW
Battery capacity: 61.4 kWh
Composition
1 Caterpillar DE33E3 generator
12 Lithium batteries
1 set of inverters and chargers
140 x 290 W mono crystalline photovoltaic solar panels on folding stands
1 User interface